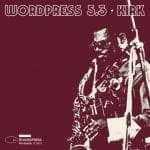 WordPress Update has released – WordPress 5.3 "Kirk"
WordPress Update 5.3 expands and refines the block editor with more intuitive interactions and improved accessibility. New features in the editor increase design freedoms, provide additional layout options and style variations to allow designers more control over the look of a site.
This release also introduces the Twenty Twenty theme giving the user more design flexibility and integration with the block editor. Creating beautiful web pages and advanced layouts has never been easier.
This enhancement-focused update introduces over 150 new features and usability improvements, including improved large image support for uploading non-optimized, high-resolution pictures taken from your smartphone or other high-quality cameras. Combined with larger default image sizes, pictures always look their best.
Accessibility improvements include the integration of block editor styles in the admin interface. These improved styles fix many accessibility issues: color contrast on form fields and buttons, consistency between editor and admin interfaces, new snackbar notices, standardizing to the default WordPress color scheme, and the introduction of Motion to make interacting with your blocks feel swift and natural.
For people who use a keyboard to navigate the dashboard, the block editor now has a Navigation mode. This lets you jump from block to block without tabbing through every part of the block controls.
For more to read on this, checkout WordPress.org